Echo Into Darkness, Book 2 in The Echo Saga
Now available at all major online book retailers.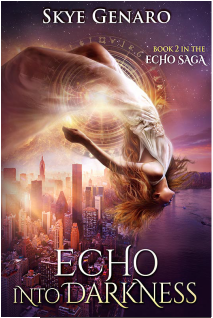 Prologue
I felt like I was in a horror movie, the kind where I was locked in a room and the monsters kept multiplying until they surrounded me and my death was just a matter of time.
But it wasn't my life that was at stake. That, I could have accepted. It was your blood they shouted for. My beloved soulmate's. The most powerful person I had ever known.
When they turned on the light in your cell and I saw you through the one-way window, bruised and bleeding, it nearly broke me. I was thankful you couldn't see beyond the glass, couldn't see the fear building behind my eyes.
If you could, you would have watched me fight for your life with everything I had. You would have seen them laughing and cheering as if they were watching a sporting match, instead of a bloody duel where your life was the prize.
They were placing bets that I could not save you.
I was terrified they were right.
It was ironic, really, that these monsters would test my strength, my ability to destroy beautiful things, when all the time they were tapping into the very depths of my love. That was the key to everything worth living for, wasn't it? The ability of love to overcome the darkest of fears? It had to be.
While they shouted to see your blood spill, love was the one thing that pushed my ability beyond its boundaries. It was the key to keeping you alive.
If I lost this contest, then they would have to take my life, too. I'd push them so far they would have no choice. Then you and I would finally be free to live out our destiny, together.
Chapter 1
There's something about the week between Christmas and New Year's that I've always loved. Presents have been opened and school is still out for winter break. The whole neighborhood smells like Christmas trees. Holiday lights brighten up every block. It's one big joy-to-the-world fest while everyone rides high on eggnog and sugar cookies.
I blew warm air on my hands and thought maybe I could enjoy the crisp winter night if I dropped the sarcasm. This was my first trip out of the house since the start of holiday break, and let's face it, no way would I be walking through my neighborhood alone at night except Kimber had handed me Tito's leash and shoved us both out the door.
Staying inside was safer, but Kimber didn't know how my life had dramatically changed during fall semester. She knew nothing about the incident at the mall, when Solomon, a man from Connor's time, had tried to kidnap me. She'd never found out about the night when I nearly fell three stories to my death.
If it were up to me, I would have forgotten that entire incident, including the part about Connor coming to my rescue. Would have pretended he hadn't left for good the next morning. Ignored the constant vulnerability I felt, like a chill I couldn't shake even when I burrowed beneath the heaviest of blankets.
Connor could have put an end to that chill. I'd felt secure when he was with me, protecting me. Also, his body ran a little warmer than anyone else I'd hugged, and the electric stream beneath his skin, well, that made me warm in a very different way.
I missed him so much.
Now I hunkered into my fleece coat, on the lookout for some nondescript faction people who would seriously mess me up if they found me. Connor had known my life was in danger, but he hadn't been able to point the enemy out. He only knew that factions in my city were rounding up gifted people like me and forcing them to use their abilities to commit violent crimes.
The faction members lived in secrecy, running companies, raising families, blending into society. A band of them were stationed somewhere in Portland. This was fertile ground for my recent nightmares. I didn't know where these guys lived, what their names were, or how to find them. All I knew for certain was that my gifts—the telekinesis, the levitation, the whole crazy lot of it—put me in serious danger. I felt like I was walking around with a target on my back.
I shuddered and forced my attention back to the cheery atmosphere. The red and green lights decorating Becca's house across the street blinked, faded, and came on again, forming a snowflake pattern. The electric reindeer at the end of the street bobbed up and down like they were excited to see me. I actually waved at them. That's what happened when you spent your entire winter vacation in self-imposed solitary confinement—you got desperate for friendship.
A couple of hardcore joggers ran by and I immediately clicked into aura-reading mode. I felt the damp heat of their determination, the clarity of their focus. They sprinted up the hill, giving no indication they saw me. I almost relaxed, but as they left I picked up another faint vibration in the air—something tentative and leaden. It was distant, though, and didn't trigger my urge to flee.
I wrapped Tito's leash around my gloved hand and waited while he peed on everything that didn't move. My side ached a little bit, and I pressed my arm against my coat. Connor had healed my ribs after Solomon broke them, but they still nagged me when the weather got cold. I didn't mind. It was a sweet reminder that my soulmate existed out there somewhere. Connor had been gone for weeks but the sting of our last few seconds together had never faded. They never would. You didn't just forget about a supernatural guy with tropical green eyes who taught you how to levitate and push your hand through solid objects.
At the West Vista Bridge, I gave Tito a backward tug. My toes were numb, and he was shivering beneath his red and white Santa coat.
Tito strained toward the bridge and barked.
"Quiet, Tito. Come on, let's go home."
The West Vista Bridge spanned a ravine and highway, connecting my neighborhood to downtown Portland. Constructed entirely of molded cement, it resembled a relic from Gothic times, especially when the majority of its lights were burned out.
Tito's ears twitched. A whimper came from somewhere on the bridge. Human, not animal.
Tito pulled us down the sidewalk toward the sound. There it was again, a broken sob, so short and soft that the night air seemed to steal the life from it.
Where was it coming from? The entire stretch of sidewalk was empty, and beyond the railing? Nothing but a hundred-foot drop.
A rubber sole scraped against concrete and I looked up. A few feet above my head a slender figure clung to the rough stone column.
"Omigod. What are you doing?" I asked.
The girl's mouth formed a surprised
O
. Her hair stuck out from under a striped knit cap and a reddish smear soiled one side of her blue nylon coat. My sixth sense told me the stain was blood. Hers. Her cheek pressed into the column, delicate features mottled by pale moonlight.
"Leave me alone," she whispered.
She turned her tear-streaked face to the drop-off. When her weight shifted, her nylon coat scraped against the stone like a scream.
"Wait! You can't do this!" I reached for my phone to call 911. It wasn't in my pocket; Kimber had commandeered it when she shoved me out the door.
"I don't have a choice." Tears garbled the girl's words. "You don't know what I'm going through."
"It's not as bad as you think," I answered. It sounded horribly cliché, but what do you say in these situations? I scrambled for the right words. "Come down and talk. Tell me what's wrong."
The girl laid her haunted eyes on mine. I felt my aura bend outward, toward her. Another energy prodded it, testing its strength. The hair on the back of my neck rose.
"You're gifted," she said. "You can levitate and move things with your mind."
Only another gifted person would know about my abilities without me telling them. Once, a few months back, I longed to share my truth with another gifted person, to shake the never-ending loneliness.
This wasn't an ordinary gifted girl, though. I had tucked my aura in tight to keep my ability secret. This girl had identified me anyway. She was hiding hers, too, like she had been schooled in the uncommon art of auric camouflage.
She let her aura loose and the air between us pulsed. A humid, chemical taste clogged the back of my throat.
Alarm pinched my stomach. I scooped Tito and took three long steps backward. "You're in the faction," I choked.
The girl blinked at me, her eyes as big as an owl's. Searing guilt drifted off her energy field and collected in my chest. What had this girl done to make her feel this way, to make her teeter on the edge of death?
Something Connor had said came back to me. When gifted people were enslaved by the faction, they were expected to follow orders, no matter how hideous the demands. If they refused, the faction would force them, using any method necessary, including torture. I wasn't sure exactly what this girl had been through, but I could not abandon her.
"Please come down," I said. "Come down and we can talk."
"They made me do it." She panted, unable to catch her breath. She clenched her eyes closed. "I can still hear the screaming."
I had no clue what she was talking about, but played along. "You're right; they made you do it. They're responsible for what happened. Now come on down."
The girl sensed my uncertainty. "You think I'm crazy." Her attention latched onto Tito. She levitated him out of my arms.
"What are you doing?" I strapped Tito to my chest. "Leave him alone. I believe you, all right?"
Tears rolled down her face. "The lightning strike. I made it hit those people outside the movie theater. They never even did anything to deserve it."
"Oh my God," I said. "You did that?"
During the winter in Portland, it rained for months on end, but lightning was extremely rare. So it was seriously freaky when, on a clear day last week, a bolt struck and killed six people while they waited in line to buy movie tickets.
"If I didn't do it, they were going to hurt me again." She wiped her nose on the back of her coat sleeve. That, too, was wet with a red stain.
"Are you bleeding?" I asked. "Did they do that to you?"
She nodded.
"Who are they? Tell me who did it." If this ended badly—and please, please don't let that happen—I would at least have something to take to the police.
Her jaw trembled. An odd thought went through my mind. She couldn't have been more than seventeen. My age. She turned away and faced the gaping blackness beyond the bridge.
"Wait!" In one swift movement, I set Tito on the sidewalk and grabbed the girl's coat in both my hands. The fabric was slick between my cotton gloves. If she jumped, she would slip right out of my grasp.
A glimmer of recognition swelled in her aura. "I've felt you before," she said in a dreamy voice. "I know who you are." She seemed to look right through me. "
They've
felt you, too. They can sense you're in the city. They'll figure out who you are and come after you. You have everything they want."
A tremor of fear knocked through my legs. "Who? You have to tell me who runs the faction."
She wasn't listening. Her gaze was fixed on a distant point. "They'll never stop using me. This is the only way out for any of us."
As though she had a sudden change of heart, the girl extended her hand. Yes, thank God, I was finally getting through to her. I took it, thrilled that she was coming down. Instead, she leaned away, her weight pulling me onto the ledge with her.
"Jump with me. Before they get to you. It's the only way out," she repeated.
I ripped my hand away. This girl was seriously sick. "I'm going for help. Please stay here."
No sooner had I gathered up Tito than the strangest thing happened. The girl became bathed in white light, as if by the simple act of intense wishing, she had become a celestial being. After a few seconds, the glow dropped away, casting her in darkness again and drawing our eyes to the highway below.
A car had stopped on the side of the highway and someone on the shoulder aimed a spotlight at the bridge. It skimmed the abutment on our left, drew toward the center, slowing at each section. The harsh light drifted across the columns and spindles and settled once again on the girl. Her arm shot up to shield her face.
"They found me," she wailed. She dropped to the sidewalk, knocked me to the pavement, and sprinted down the hill toward town. Her blue jacket faded into the inky night.
The spotlight kept pace but then lost her. Instead of going dark, it arced and dove, retracing the girl's steps to the center of the bridge. When it glared between the railing spindles, cutting my body into vertical stripes of shadow and light, I grabbed Tito and ran.
BUY NOW:
Amazon
Apple iTunes
Jacobsen's Books (Hillsboro, OR)
Jan's Paperbacks (Aloha, OR)
Kobo
Barnes and Noble
Smashwords
---