BOOKS

Echo Across Time
Book One in The Echo Saga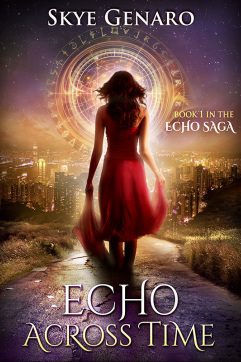 Echo Across Time, Book One in The Echo Saga
Fall in love with the achingly beautiful story of Echo and Connor, supernaturally gifted teens, as they fight to live out their destiny together.
Echo had it all--she lived in a mansion in the wealthiest neighborhood and was a member of the Partychicks, the elite high school clique. But her enviable life was ripped apart when a bullying incident put her in a coma. When Echo wakes up, she's gained paranormal powers that she can't control.
Telekinesis. Aura sensing. These abilities wreak havoc on Echo's life, and she will do just about anything to get rid of them. Even if it means sharing her secret with Connor, the gorgeous, frightening stranger who appears out of thin air and possesses shocking supernatural abilities. He promises to teach her things beyond her wildest imagination--if Echo has the courage to trust him.
When she learns that people with paranormal gifts are being kidnapped and murdered, Echo must choose between her love for Connor and her own safety, but she can't have both.
Includes bonus material.
Paperback and ebook.

BUY NOW:Amazon
Kobo
Jan's Paperbacks
Barnes and Noble
Smashwords
Apple iBooks
---
---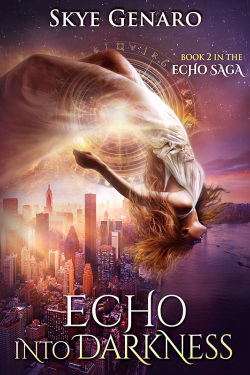 Echo Into Darkness
Book Two in The Echo Saga
So close to death that he could probably taste it, Connor set his gaze on his hidden audience. At a moment when most prisoners would lash out in panic, he stared down his tormentors. Behind that stormy, warring face was a tenderness that only I knew. A devotion that ran so deep, he had risked everything to search for me beyond the boundaries of time.
Now, his life was in my hands.
As Echo tries to piece her life together after the devastating separation from her soulmate, she finds herself in a cat-and-mouse game with bewitching criminals whose paranormal terrorism threatens to take over her city.
When a frightening turn of events puts Connor's life at risk, Echo must unveil the depths of her power or lose him forever.
Echo Into Darkness
is a story of power, passion, and deceit that will keep you turning pages and leave you breathless.
Ebook and paperback.

BUY NOW:
Amazon
Apple iBooks
Jan's Paperbacks (Aloha, OR)
Kobo
Barnes and Noble
Smashwords
---
---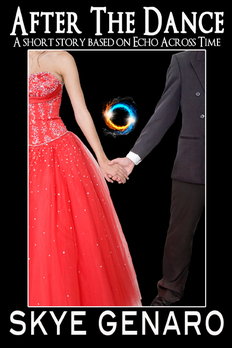 After the Dance
A short story based on Echo Across Time.
After Echo and Connor enjoy the dance at the Great Hall in West Region, Connor is called into his father's office and Echo ends up going home without seeing him again that night. Neither Echo nor Connor knows that Mr. McCabe has just ended their relationship. In
Echo Across Time,
we learn what Echo goes through in those weeks after the dance, but what about Connor? This is his story.
Ebook only.
BUY NOW:Amazon
Apple iBooks
Barnes and Noble
Kobo
Smashwords
---
---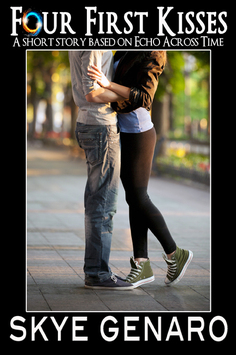 Four First Kisses
A short story based on Echo Across Time.

In Echo Across Time, Echo promised she would give Becca a ride to McKyla's party, but when Echo doesn't show up, Becca goes to the party without her. What choice does she have? Lucas is going to be there, and Becca is convinced this is the night they will kiss for the first time. But Becca runs into a series of guys she used to date, and her plans are nearly derailed.
Ebook only.
Amazon
Apple iBooks
Barnes and Noble
Kobo
Smashwords
---
Novelettes
______________________________________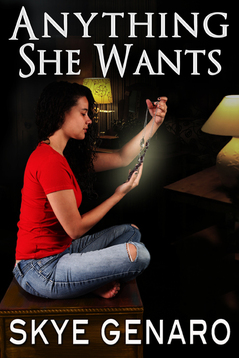 Anything She Wants
Seventeen-year old Clare has lived in a ghetto her whole life, and all she wants is to get her and her mom to a safer place. Her mom's three jobs don't cover the bills, and the only hope they have is Clare's internship at a media company.
That is, until Clare discovers she can create objects out of thin air—money, jewelry, anything she can imagine manifests in her hands. But each time she does this, the trance destroys her physically. Can Clare make her dreams happen before the gift costs her everything?
Novelette. Ebook only.

BUY NOW:
Amazon
Apple iBooks
Barnes and Noble
Kobo
Smashwords
---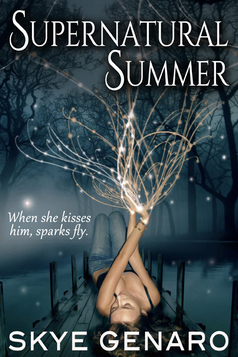 Supernatural Summer

School's out in Santa Barbara and Summer Desilva's got her eye on the hottest guy in high school. But every time she gets close to Joshua, Summer's new paranormal ability betrays her feelings! How is she supposed to flirt with him when her power makes things mysteriously bursts into flames?
When Summer tries to control her poltergeisting, it only creates more havoc, and her family is no help. Summer's hippie mother wants her to embrace the gift while her nine-year-old brother takes every opportunity to torment his freakish sister.
Summer is determined to keep her ability a secret from Joshua and takes a huge risk when she sets out to make Joshua hers. But when things get steamy between them, sparks literally fly.
Is Joshua adventurous enough to take a chance on Summer, or is her gift a supernatural deal breaker?
Novelette. Ebook and audiobook.

BUY NOW:Amazon (ebook and audio)
Apple iBooks (ebook and audio)
Barnes and Noble
Kobo
Smashwords
Audible.com (audio)
---

____________________________________________________________